This recipe is one of the great pasta dishes from Sicily!
You can prepare this pasta with sardines in one of our cooking classes.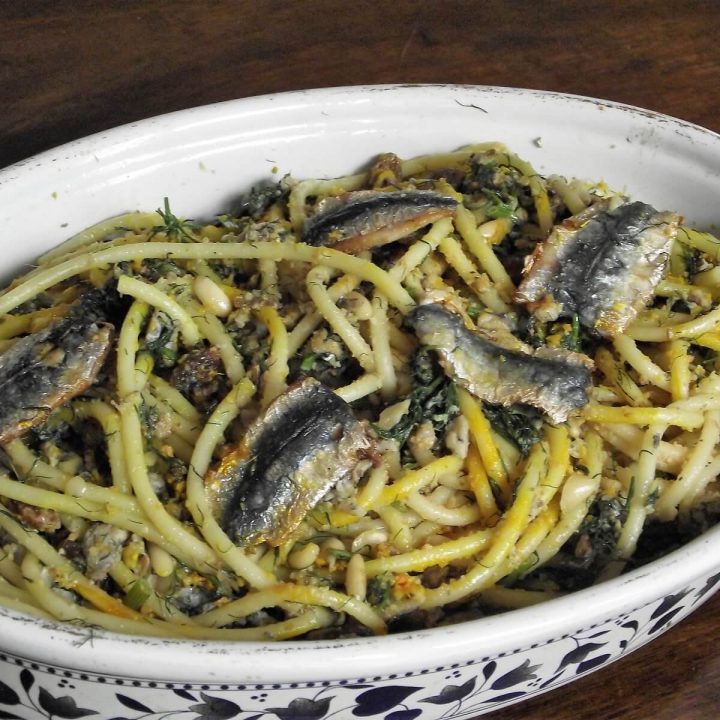 Pasta with sardines
Ingredients
500 grams macaroni
500 grams fresh boned sardines , without heads and tails
2 onions
50 grams raisins
50 grams pine nuts
6 bunches of wild fennel, about 600 grams
EVOO
2 sachets of saffron
Salt and pepper
100 grams breadcrumbs
Instructions
Rinse the wild fennel, bring a pot of water to boil, add salt as you will do for cooking pasta. you will use this water later for cooking pasta, then boil the wild fennel for 5 minutes, drain the wild fennel, chop and reserve it, reserve also the water for cooking pasta.
Soften raisins in warm water for 10 minutes and then squeeze them.
In a pan pour some EVOO and toast the breadcrumbs until they brown a little bit.
Pour some EVOO into a pan and fry the chopped onions, the sardines, the raisins and pine nuts. Incorporate the chopped fennel and the boned sardines. Mix with a wooden spoon, taking care to chop the sardines.
When the fish is cooked, finish the sauce by adding a sachet of saffron dissolved in warm water, adjust with pepper and salt (if necessary) and set aside.
Boil the pasta al dente, in the water that you reserved, following the cooking time on the label, minus one minute.
Drain the pasta, mix it in the pan with the sauce for 1 minute and serve sprinkling with the toasted breadcrumbs.
If you need to convert the measurement units or scale this recipe, please copy the url of this recipe and visit this page