These days in Liguria it is still quite common to serve a particular type of pasta called Corzetti.
This small, coin-shaped pasta is now typically stamped with different and creative patterns but in the past, it bore the (noble) family's coat of arms – a tradition that has been handed down for generations since the Renaissance.
It is in that historical period, in fact, that the aristocrats asked to their cooks to personalize the pasta with their own coat of arms not only as a sign of luxury but to show-off to the
guests.
Corzetti, in Genoese dialect "curzetti", are today, without doubt, the best example of traditional Ligurian pasta. In many houses, the tradition of making corzetti at home still continues to this day. They are usually made for Sunday lunch, using a personalized sort of stencil stamp.
Corzetti are small circles of dough with a stamped pattern, made by a specific type of wooden hand-tool. Even today it is possible to find old workshops which produce and sell these indispensable molds for preparing corzetti at home.
From the Middle Ages through modern times, fine woods, low in tannins such as maple or beech or even apple or pear one, have been used to make Corzetti molds. The type of wood, in fact, must be either tannin or resins free, as it would transfer a rather unpleasant taste to the pasta.
You can prepare this recipe in one of our cooking classes.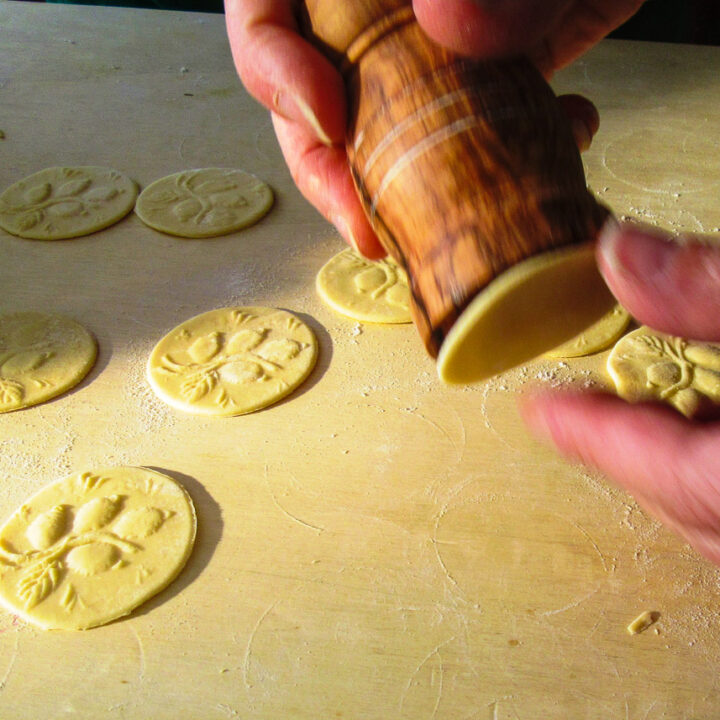 Corzetti
Additional Time:
30 minutes
Ingredients
For the dough:
300 gr. semi-wholemeal flour
1 pinch of whole salt sea
1 egg
Water as needed
For the seasoning:
Fresh butter
1 handful leaves of marjoram
1 handful of pine nuts
Grated Parmigiano Reggiano cheese
Instructions
Make a dough mixing water, flour, egg, and a pinch of salt. Knead until the dough is firm and smooth. Let it rest wrapped up in a plastic film for about half an hour.
Roll out a sheet of pasta not too thin and, keeping it on a generously floured board, cut and stamp as many diskettes as possible out of it, using the special stamp.
Proceed as follows: cut out discs of pasta with the hollow and cutting side of the stamp, then place cut pasta discs on top of the stamp base one at a time, and finally press the separate stamp top onto the disc.
This way you will have discs with two different patterns stamped on, one on each side.
Set freshly made corzetti aside to dry for a while, laying them on a floured tray or wooden board. Turn them upside down
to let both sides dry more easily.
Cook them in boiling salted water, in which a few drops of olive oil have been poured to prevent corzetti from sticking to each other during the boiling.
Drain them "al dente". Dress them while still hot directly on the serving plate with the melted butter, a handful of fresh marjoram and one of pine nuts. Mix them to make them creamy. Serve with a generous handful of grated Parmigiano Reggiano.
Alternatively, they can be served with a more substantial sauce such as basil pesto sauce or walnut sauce, or mushroom sauce.

Notes
Needed equipment:
Corzetti wooden stamp
Rolling pin or pasta machine
Corzetti can be kept in the fridge for one day.
If you need to convert the measurement units or scale this recipe, please copy the url of this recipe and visit this page