This recipe uses the sous vide controlled temperature technique to obtain the desired texture of the poached egg.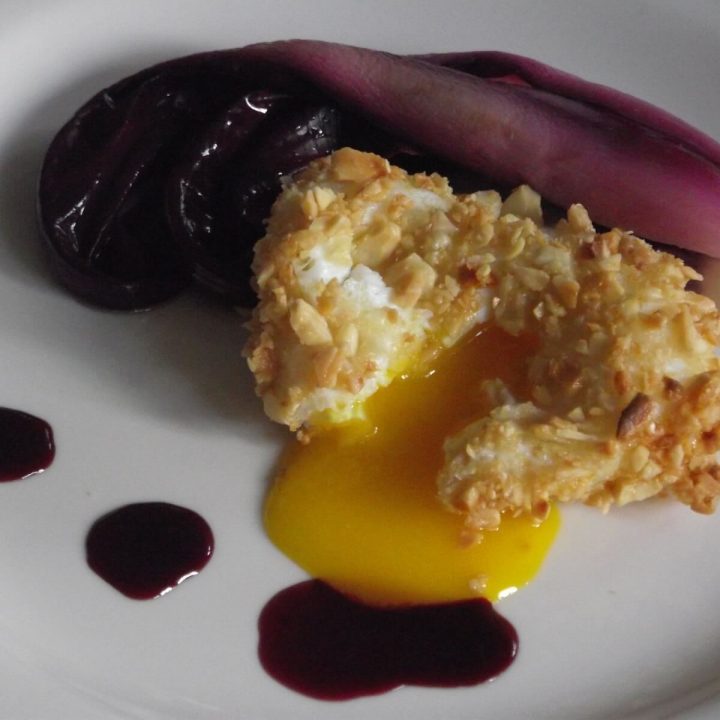 Poached egg with sweet and sour radicchio - sous vide
Total Time:
1 hour
30 minutes
Ingredients
6 chicken egg
60 g almonds
salt, to taste
500 ml peanut oil , or sunflower oil or corn oil
Sweet and sour radicchio
12 Radicchio salad leaves
25 ml red wine vinegar
10 ml red wine
25 g sugar
5 ml EVOO
5 g salt
1 pinch pepper
Instructions
Prepare the water for the eggs: set the temperature at 62°C (144°F), cooking time 1 hour. Immerse the eggs and start the cooking.
Prepare the liquid for sweet and sour radicchio: mix red wine, vineger, EVOO, sugar sal and pepper in a small bowl.
Rinse the radicchio leaves and put them in a bag for sous vide cooking, add the liquid, vacuum seal the bag. Cook sous vide at 85°C (185°F) for 25 minutes.
Remove the leaves from the bag, put the liquid in a small pot and heat until it is reduced as a sauce.
Pre-heat the oil up to 170°C (340°F).
Chop the almonds in small pieces.
When the eggs are cooked, cool down them in running water, until you can handle them.
Break and remove the eggshells carefully.
Coat the egg with the chopped almonds.
Use a ladle to immerse the egg in the oil and deep fry for 30 seconds.
Put the egg on a kitchen paper to remove the oil in excess.
Plate the egg, 2 radicchio leaves, three teaspoons of sauce and serve immediately.
If you need to convert the measurement units or scale this recipe, please copy the url of this recipe and visit this page