This vegetarian pasta dish is one of the very classics from Sicily.
The name Norma refers to the homonymous opera of the famous Italian composer Vincenzo Bellini from Catania, Sicily, and it means that is as wonderful as the Opera.
You can prepare this pasta alla Norma in one of our cooking classes.
If you love the ingredients of this dish, you can also try this Afghan vegan recipe based on eggplant and tomatoes: BORANI BANJAN (بورانی بادمجان).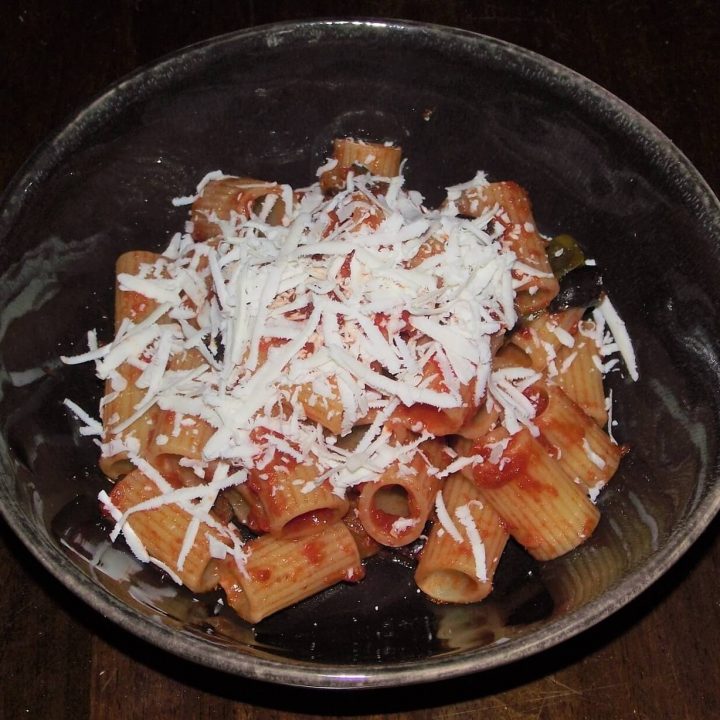 Pasta alla Norma - Sicilian
Total Time:
3 hours
40 minutes
Ingredients
320 g pasta, usually the short one, like macaroni, not spaghetti
2 eggplants, medium
600 g tomato sauce
100 g ricotta salata
1/2 onion
8 basil leaves
EVOO
salt
pepper
Instructions
Dice the eggplants and put them in a colander with rock salt for 3 hours, remove the salt in excess and dry them with paper, if necessary.
Heat a pan with some EVOO and sauté the eggplant, remove from the pan and dry them from the oil in excess with paper, if needed.
Prepare a tomato sauce with some EVOO, chopped onion, canned tomato sauce or canned diced tomatoes, as you like.
Cook pasta in boiling salted water, following the directions on the package.
In the mean time reheat tomato sauce, add the eggplant.
Drain pasta 1 minute before reaching the cooking time, and mix it in the pan with the sauce.
Serve on plates, sprinkle grated ricotta on top, add 2 basil leaves for each serving.
If you need to convert the measurement units or scale this recipe, please copy the url of this recipe and visit this page