Neapolitan pastiera is one of the most widespread Neapolitan desserts, especially during the Easter period.
It is a typical spring dessert, and at Easter, it can never be lacking on the tables of the Neapolitans.
The recipe that I propose is from the great Neapolitan pastry chef Mario Scaturchio.
The pasta to be used is the short pastry that is called "fine", this is to differentiate it from the normal short pastry or the "current" that is used for the sfogliatelle.
Remember the Pastiera should be consumed after at least two days of rest, in fact, traditionally it's prepared on Holy Thursday.
You can prepare this recipe in one of our cooking classes.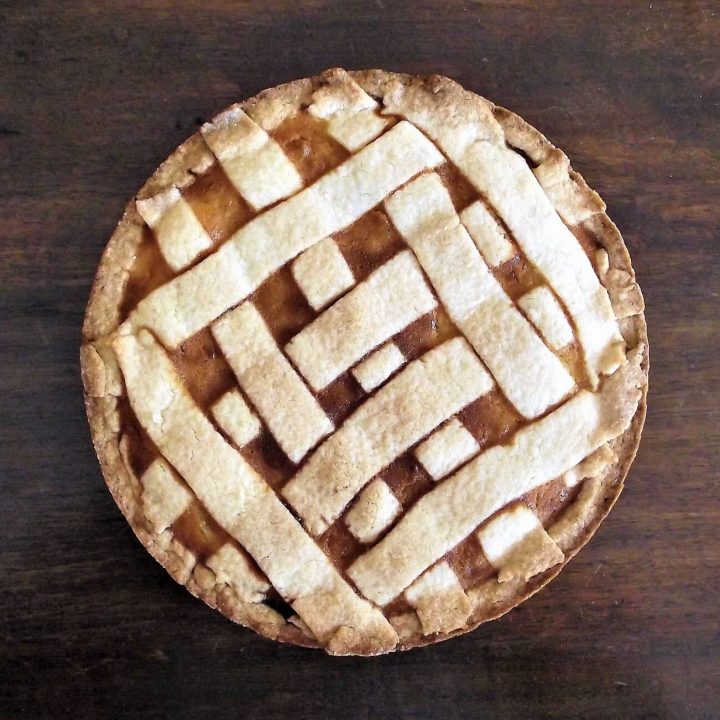 Neapolitan Pastiera
Total Time:
1 day
3 hours
Ingredients
The following quantities are for a 22-24 cm (9 in) cake mold
250 g Flour
100 g Sugar
1 egg
100 g Lard
1 g Ammonia for sweets
1/2 lemon zest, grated
For the stuffing
250 g sheep's milk ricotta
250 g Sugar
250 g Cooked wheat
3 Eggs, whole
50 g candied orange, in very small cubes
1 vial orange blossoms
Vanilla
1 teaspoon Lard
150 ml Milk
Instructions
Make the "flour fountain" on the work table. In the flour all the ingredients have to be put together and mixed together and the flour will absorb everything. Warning! Do not press the dough!
The dough must rest at least 24 hours.
Then, cook the wheat in the milk with the peel of lemon and a teaspoonful of lard, until it becomes a cream, about 20 minutes. Now you can leave the whole grain or blend it, or half and half.
Remember to remove the lemon peel. Reserve in the fridge.
At this point, reserve some dough to make the stripes on top.
With the remaining dough, using a rolling pin, make the "pettola", that is a disk of shortcrust pastry and spreads it in the cake mold.
Warning: you have to make the whole thing adhere well and then you have to trim it all around.
Mix the ricotta with the sugar and let it rest for a few hours, then add the cold wheat, beaten eggs, candied orange and aromas. Fill the molds up to the edge.
From the short pastry we have reserved previously, we then make rectangular strips of 1 cm. and put them on top of the filling of the pastiera, in order to control their leavening in the oven; in fact these strips help to contain everything: when the Neapolitan pastiera is in the oven tends to become a balloon, then at the exit from the oven it reassumes, returning to its original shape.
Let it cook in the oven at 190 °C (375°F) for about 90 minutes and even a little longer, in any case until the
Neapolitan pastiera takes on a nice amber color. In this way, the sugar becomes almost shiny and a little bright.
If you need to convert the measurement units or scale this recipe, please copy the url of this recipe and visit this page