In this recipe, we will prepare a modernist sous vide tikka masala chicken.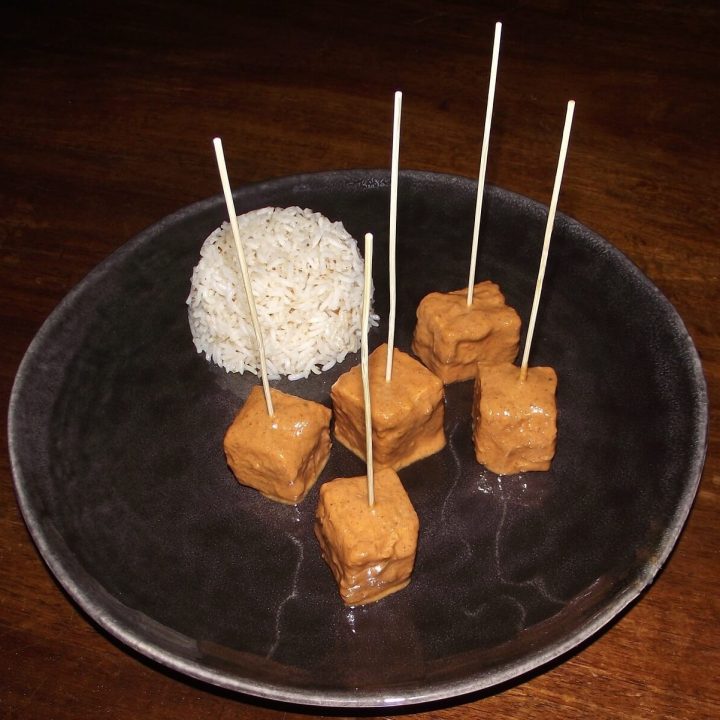 Tikka masala chicken
Total Time:
1 hour
30 minutes
Ingredients
For the chicken
2 g ground cumin
2 g ground coriander
2 g garlic powder
0,5 g cayenne chile powder
Salt and pepper to taste
500 g chicken breasts
For the tikka masala coating
25 g tomato paste
200 g crushed tomatoes
50 g onion diced
10 g fresh ginger minced
3 cloves garlic diced
1 chili diced
50 g water
10 g honey
10 g garam masala
Salt and pepper
3 g agar
100 g heavy cream
sesame oil
Instructions
Preheat the water bath to 60°C. Combine the spices in a small bowl and mix well. Salt and pepper the chicken breasts then coat with the spice mixture. Seal them in a sous vide bag and place them into the water bath. Cook for 1 hour. Remove from the sous vide bag and pat dry. Cut the chicken into 1 inch-sized cube.
During the chicken cooking time, heat a pan over medium to medium-high heat. Add oil and warm. Add the onion and cook until translucent, about 5 minutes. Add the garlic, ginger, and chili and cook for 2 minutes.
Add the tomato paste and garam masala and cook, stirring regularly, for 3 minutes. Add the crushed tomatoes, water, and honey then bring to a simmer for around 15 minutes. Salt and pepper to taste.
Add the agar, puree well, and bring to a boil for 3 to 5 minutes. Stir in the heavy cream then reduce the heat to just below a simmer and keep it there while dipping the chicken.
Stick a toothpick in a chicken cube then dip the chicken into the tikka masala coating. Set the cube on a plate, the coating should begin to harden quickly. Once the coating has set, re-dip it for a thicker coating. Repeat for the remaining chicken.
Serve with steamed basmati rice.
If you need to convert the measurement units or scale this recipe, please copy the url of this recipe and visit this page