This sweet and sour dish from Sicily is one of the famous Italian original vegan dishes.
Depending on the other courses of your meal, this could be an appetizer, or a side dish or even a main dish.
You can prepare this recipe in one of our cooking classes.
And if you want to end your vegan meal with a dessert, check out these luxurious Christmas coconut and rum snowballs or, if you prefer a gluten-free dessert, check out these Healthy Vegan Flourless Peanut Butter Cookies.
If your diet is keto or paleo, you can have Sicilian caponata as a side dish for these Juicy Instant Pot Frozen Chicken Thighs.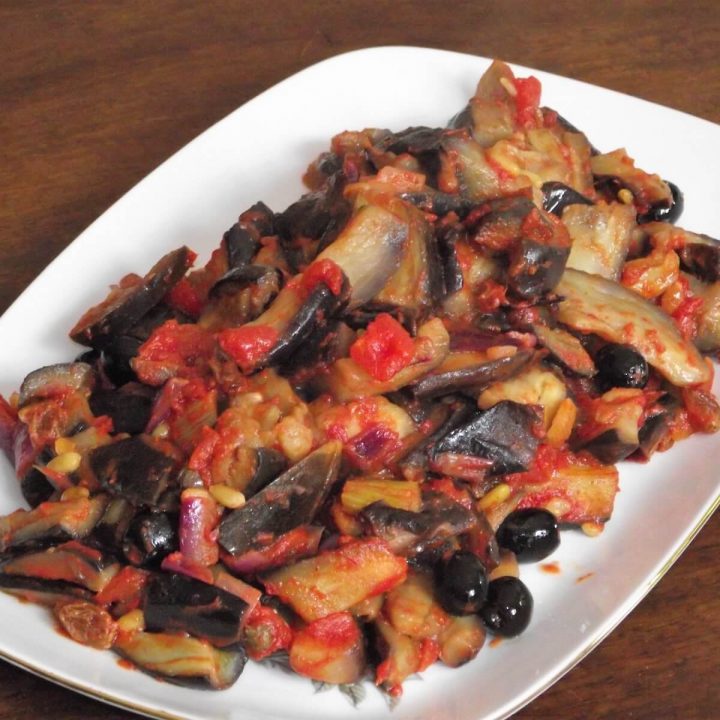 Sicilian Caponata
Total Time:
3 hours
30 minutes
Ingredients
1 kg Eggplants
3 stalks Celery
250 g Onions
100 g Pitted Black olives
50 g Capers in salt, or in brine
60 g Pine nuts
500 g diced canned tomatoes
50 g Sugar
50 g White wine vinegar
6 Basil leaves
Rock salt
EVOO
salt and pepper
Instructions
Dice the eggplants 1,5-2 cm size, put them on a colander, sprinkle some rock salt in between, this will force the bitter liquid that is inside to exit, put a weight on top, leave it for min 2 hours, then brush away the salt and remember that you will need little or no salt later in the recipe.
If you don't have time for the previous step, you can omit it, but when you will fry the eggplants, you will not obtain the same result.
In a pan put the pine nuts and let them brown a little to release the flavour, reserve them in a small bowl.
In the same pan put some EVOO and fry the eggplants, for a 10-15 minutes until they brown a little, reserve them in a bowl.
Cut celery in 1-2 cm pieces, put it in boiling salted water for 3-4 minutes, drain and let it dry, then briefly fry it in the pan with some EVOO, reserve it. in a small bowl
Rinse capers to remove the salt, cut olives in pieces.
In the same pan put some EVOO and the diced onion, let it brown a bit, add tomatoes and let cook for 10 min, then add sugar and vinegar, stir 1 minute to evaporate the vinegar, add the other ingredients and some basil leaves, stir to mix all together 1-2 minutes,
Caponata is ready, let it cool a little bit and serve.
If you need to convert the measurement units or scale this recipe, please copy the url of this recipe and visit this page