Overview
Duration: 2 hours
In this online lasagna cooking class, you will learn how to make authentic lasagna bolognese from scratch, to prepare pasta you need only eggs and the right type of flour.
Regarding the filling, we will use the traditional bolognese sauce and bechamel.

Ask me if you prefer a veggie variation, i.e. ricotta and spinach lasagna.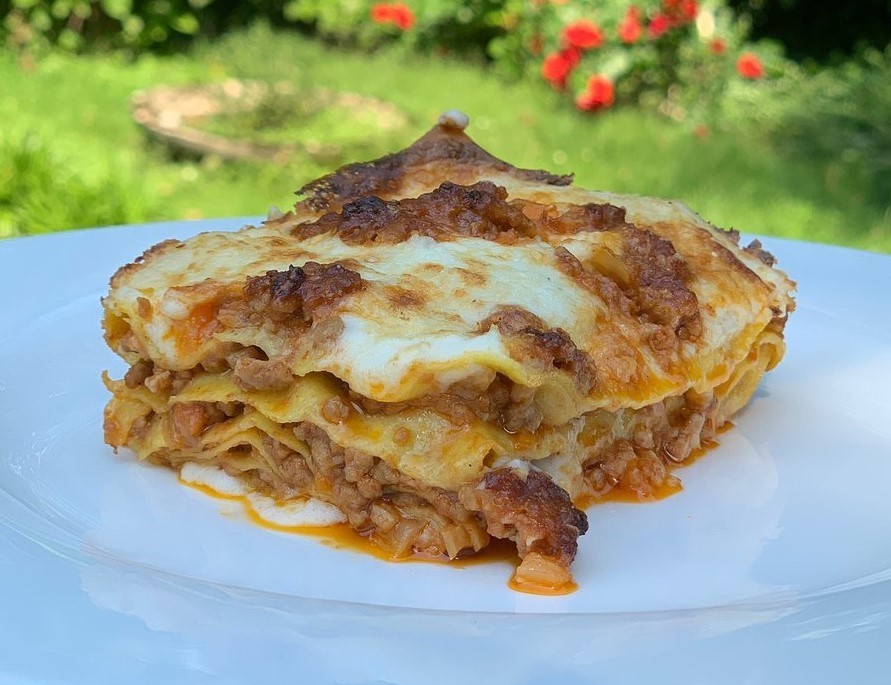 Ingredients
Six / eight servings
Pasta

1 ½ cup / 200 gr of "00" grade Flour, or all-purpose flour
2 medium-size Eggs

Bolognese sauce

2 cups / 300g ground beef
2 cups / 300g minced pork
1 carrot
1 celery stalk
1 onion
½ cup of white wine
2 cups / ½ liter beef broth
1 ½ cup / 350g tomato sauce
3 tbsp / 50g milk
1/2 tbsp salt
pepper

Bechamel sauce

1/2 cup / 70g flour
1/3 cup butter / 75g butter
3 cups / 750ml milk
a pinch of Nutmeg (optional)
a pinch of salt

1 ½ cup / 135g grated parmigiano reggiano
Utensils
Plastic wrap
Rolling pin or pasta machine
Sharp knife
1 Pot for the bolognese sauce
1 pot for the bechamel sauce
3qt / 22×35 cm Rectangular Baking Dish
2 wooden or silicon spoon
1 whisk
Wood or marble board
Technology
Connect with me using Zoom on your computer, tablet or mobile device.
What happens after you book your class?
Review the shopping list of ingredients above to purchase before the class.
Review the utensils list above, you probably already have all the things you need in your kitchen!
On the day of your class, you'll receive a calendar invitation in your email with a Zoom link, about 50 minutes before the class starts.
Book your online cooking class