Looking for first date ideas?
An original and creative first date
If your he/she likes to cook, the best opportunity to get to know each other on the first date is undoubtedly a cooking class.
More original than all the others you can find on the web: the first date at the restaurant, aperitif, bowling, go-kart, escape room, etc.
An intimate first date
The cooking class is much more fun and intimate alternative to going out to a crowded venue.
You will be together with other couples during the preparation and then you can have lunch/dinner alone.
Furthermore, you will be in the intimacy of a home and not in an aseptic room where cooking classes are usually held.
A first date without embarrassment and anxiety
During the cooking class you will be close, but busy preparing dinner, you will have fun and avoid possible situations of embarrassment in which perhaps the conversation languishes.
Eros and food
The strong link between eros and food is well known, in the cooking class you will start doing something together by preparing lunch/dinner and you will have the opportunity to get to know your partner also in this respect.
A first date surrounded by nature
Re-evaluate natural life, for your first date leave the city and come to the house in the woods of Marco's Kitchen which is located inside the Ticino Natural Park, an hour's drive from the center of Milan.
During the summer, you will have lunch in the woods, in winter you will be in the living room with the fireplace and you will be welcomed even before entering by the scent of burning wood.
If you come for lunch you can then take a romantic walk in the woods surrounding the property.
We will use seasonal, organic and locally sourced ingredients.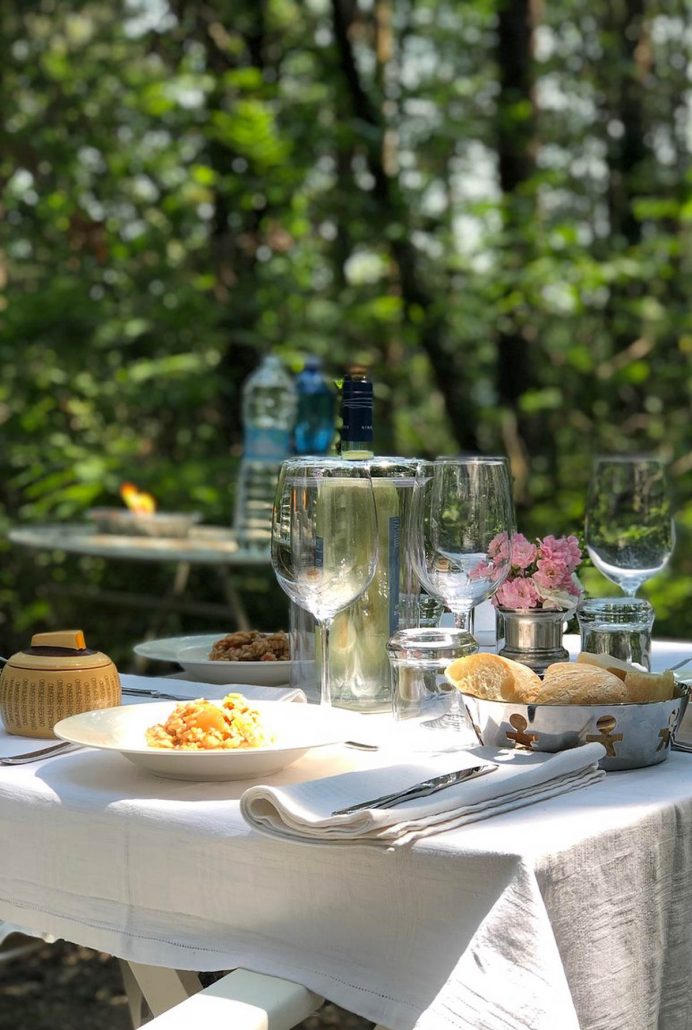 Included
hands-on cooking class
three courses meal
1 glass of wine or beer
bottled water
lunch in the woods (if the weather conditions allow it)
taxes
Frequently asked questions
Where does the first date in the kitchen of Marco's Kitchen take place?
Your first date in the kitchen will be in Sesto Calende in a house in the woods of Marco's Kitchen.
What is the duration of Marco's Kitchen's first date in the kitchen?
Usually, you spend 3 hours in the kitchen preparing the 3-course meal which you will then enjoy together. In total, therefore usually, the duration is about 4-5 hours.
Is it possible to organize a private first date in the kitchen in which there will be just the two of us?
Of course! You can request a private event that is fully defined together with you both in terms of methods and in terms of duration. For example, if you don't want to spend too much time in the kitchen, I can prepare part of your lunch (or dinner) for you.