This pumpkin ravioli is a traditional fall vegetarian dish from Northern Italy.
The filling is enriched with amaretti biscuits to enhance the sweetness of the pumpkin.
The sauce used in this recipe is butter and lemon, which compensate for the sweetness of the filling, another classical sauce used for this ravioli is butter and sage sauce.
You can prepare these ravioli in one of our cooking classes.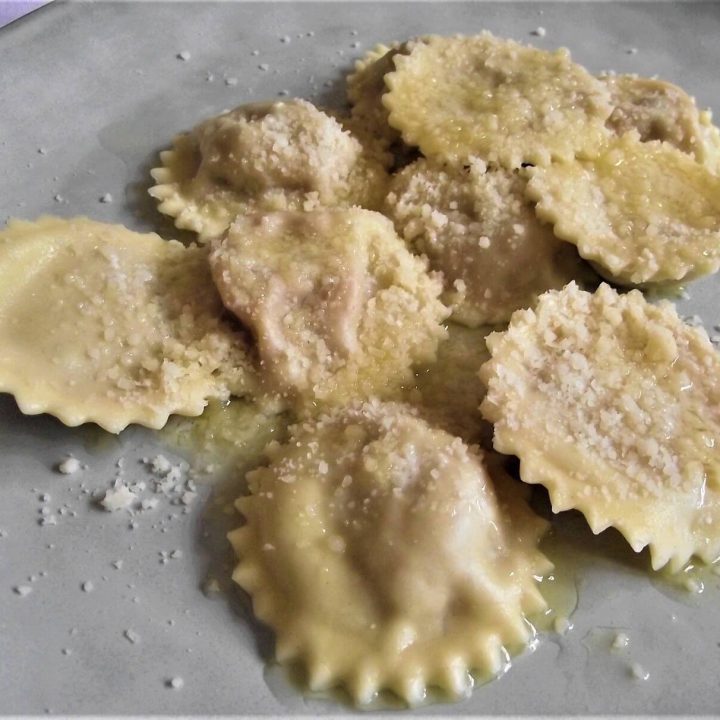 Pumpkin ravioli
Prep Time:
1 hour
30 minutes
Total Time:
1 hour
33 minutes
Ingredients
Ingredients for filling:
500 g pumpkin
100 g amaretti
200 g pear or apple mostarda, Italian specialty prepared with fruit, sugar and mustard
200 g parmigiano reggiano
1 medium egg
3 tbsp breadcrumbs
nutmeg, to taste
salt
pepper
Ingredients for dough:
400 g flour, W160-200 - protein content around 11%
4 eggs , medium 60-70g
semola or flour, to sprinkle the table and prepared ravioli
ingredients for seasoning:
1 lemon
150 g butter
100 g grated Parmigiano Reggiano
Instructions
Prepare the dough, create a volcano with the flour, put the eggs inside and mix, knead the dough for at least 20 min until it becomes elastic, then wrap in plastic film and reserve for 30-60 minutes.
Slice the pumpkin and bake it for 30 minutes, then peel it and remove the seeds, cut and mix the pumpkin, the mostarda, the amaretti, the egg and the parmigiano reggiano in the blender.
Add to the mix the breadcrumbs (the filling has not to be too wet), salt, pepper, nutmeg to taste.
Sprinkle the surface of the table with semola, divide the dough in 4 pieces, use the first one and cover with plastic film the other ones.
Using the pasta machine, start with the thicker setting and then step by step continue to the thinner setting.
Lay the pasta sheet on the table, distribute evenly the filling in small heaps in half of the rolled dough, use water to wet the dough surface where there's no filling, cover with the other half, try to extract all the air from each raviolo, press the dough in order to stick,
Cut the ravioli with the specific small wheel or use a ravioli stamp.
Put the butter in a small pot and let it melt and brown as desired, squeeze the lemon and add the juice to melted butter.
Bring a pot of salted water to boil, put the ravioli in, let them cook 2-3 minutes, more or less, depending how thin you have rolled the dough, obviously the ticker, the longer the time.
Serve ravioli, pour the lemon and butter sauce on top and sprinkle some grated Parmigiano Reggiano.
If you need to convert the measurement units or scale this recipe, please copy the url of this recipe and visit this page