Pistachio crusted baked turbot is a quick and easy recipe.
Here it is proposed with a side dish of carrots with butter and a mashed potato with celery.
You can prepare this recipe in one of our cooking classes.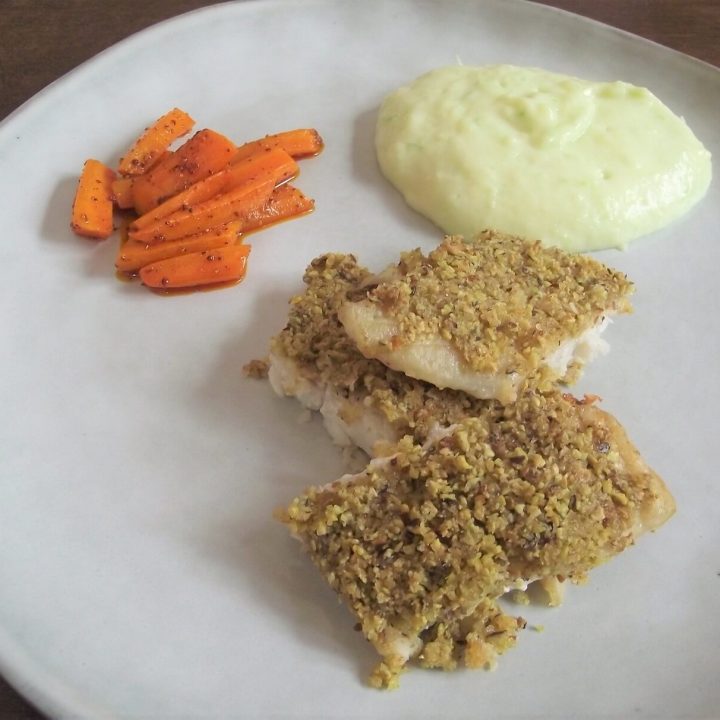 Pistachio crusted baked turbot
Cook Time:
1 hour
20 minutes
Ingredients
Crusted turbot
400 g Fillets of rombolino
40 g grated pistachios
40 g breadcrumbs
Extra Virgin Olive Oil
Mashed potato with celery
300 g potatoes
60 g celery
100 g milk
30 g butter
Carrots
200 g carrots
1 g annatto seeds, optional
20 g butter
salt
pepper
Instructions
Boil the potatoes in their skins for 40-60 minutes depending on the type of potatoes used.
In the meantime wash the celery and cut it into small pieces, blanch it for 2 minutes, and cool it with cold water.
Reduce the annatto seeds to a powder using a pestle and mortar.
Peel and cut the carrots into pieces, put them in a pan with the butter and annatto powder. Leave to cook on low heat for 5 minutes, salt to taste.
At the end of cooking, cool the potatoes in cold water and peel them, cut them into pieces.
Put the potatoes, celery, milk and butter in the blender.
Operate the blender until the mixture is homogeneous, salt and pepper to taste.
Heat the oven to 200°C (400°F).
Mix the chopped pistachios, the breadcrumbs, the salt and a little extra virgin olive oil, in order to obtain a paste, which can then be spread on the rombolino fillets.
Cut the rombolino fillets into 4-5 cm wide strips, lightly oil a baking dish, arrange the rombolino fillets and spread the pistachio mixture,
Cook for 15-20 minutes.
Before serving, heat the mashed potatoes and carrots briefly in the microwave.
If you need to convert the measurement units or scale this recipe, please copy the url of this recipe and visit this page