Risotto is one of the most famous Milan dishes! This tasty vegan and gluten free recipe uses fresh asparagus and turmeric.
If you like turmeric and you want to end your meal with a dessert based on that spice, check out this Middle-East Turmeric semolina cake recipe.
You can prepare this asparagus and turmeric risotto in one of our cooking classes.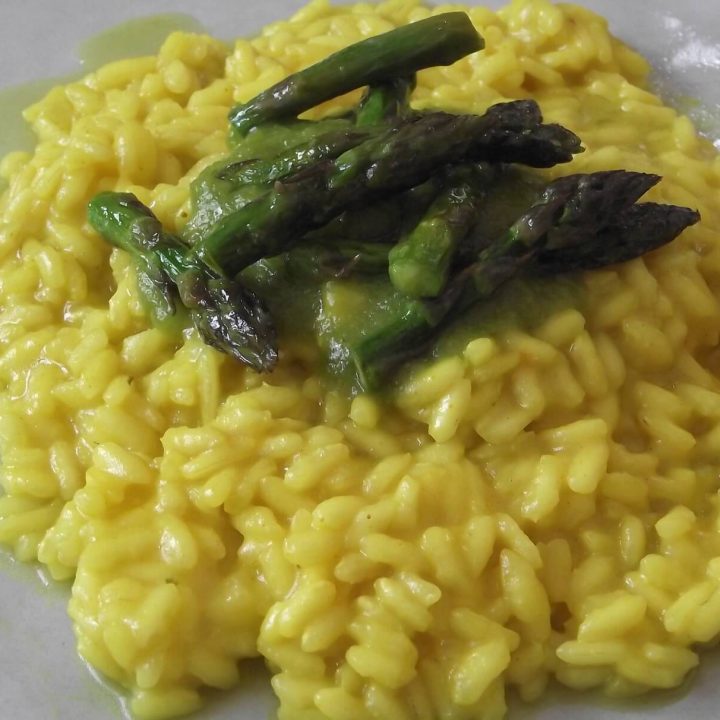 Asparagus and turmeric risotto
Ingredients
280 g rice Carnaroli or Arborio
400 g Asparagus
1 small onion , or 1 scallion or 1/2 leek
800 ml vegetable broth
150 ml rosè wine
EVOO
1 tbsp turmeric powder
salt
pepper
Instructions
Rinse asparagus and peel them, cut the asparagus tips and reserve
bring a small pot of water to boil and put the asparagus base, cook for 10-15 minutes, drain reserving the resulting liquid that will be used for the risotto cooking
blend the asparagus base using the immersion mixer, and strain using a colander to eliminate the fibers, reserve the sauce obtained, salt and pepper to taste
put some EVOO in a pan, add the asparagus tips, add 50 ml rosé wine and cook for 3-5 minutes depending on how big are the asparagus, salt and pepper to taste, reserve
put some EVOO in a pot, add the onion thinly diced and briefly cook, add rice, stir and let it shine, add 100 ml rosé wine, let the alcohol evaporate, add some vegetable broth, stir and let it absorb, continue to add broth as needed,
5 minutes before the end of cooking time, add turmeric powder, salt and pepper to taste, gas off, let risotto rest 2 minutes,
plating: put risotto on the dish, add the asparagus sauce in the center and put the asparagus tips on top and serve.
If you need to convert the measurement units or scale this recipe, please copy the url of this recipe and visit this page